The Theosophy Wales
King Arthur Pages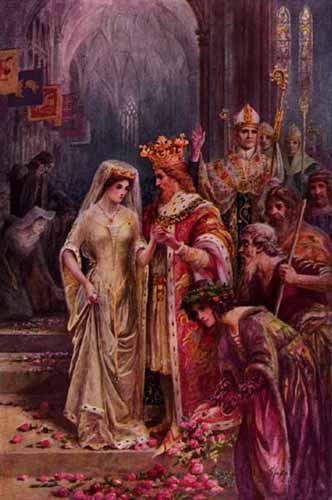 King Arthur's
Marriage to Guinevere
Where did the 
Angles, Saxons & Jutes
Come from?
According to the Venerable Bede (672? – 735),
the Angles came from Angulus, modern Schleswig which still has a district called Angeln.
The Saxons came from the coast between the Elbe and the Weser valleys and the Jutes resided north of the Angles in Danish Juteland (now Jutland) or in Holstein.
Archaeology also indicates the migration of two lesser known Germanic tribes called the Swaefe, and Alemanni during this period in addition to Swedes and Danes.
There is written evidence of some Frankish immigration.
As for settlement, Bede placed the Angles North of the Thames, the Saxons South of the Thames and in Wessex, with the Jutes in Kent and on the Isle of Wight.
Theosophy
Avalon
King Arthur &
The Round Table
Merlin & The Tree of Life
Merlin the Magician
Born circa 400 CE ; Welsh: Myrddin;
Latin: Merlinus; English: Merlin.
The Theosophy Wales
____________________
General pages about Wales, Welsh History
and The History of Theosophy in Wales
Theosophy links
Independent Theosophical Blog
One liners and quick explanations
About aspects of Theosophy
H P Blavatsky is usually the only
Theosophist that most people have ever
heard of. Let's put that right
The Voice of the Silence Website
An Independent Theosophical Republic
Links to Free Online Theosophy 
Study Resources; Courses, Writings, 
A selection of articles on Reincarnation
by Theosophical writers
Provided in response to the large 
number of enquiries we receive at 
Cardiff Theosophical Society on this subject
The Voice of the Silence Website
The Spiritual Home of Urban Theosophy
The Earth Base for Evolutionary Theosophy
Theosophical Glossary
Published 1892
A B C D EFG H IJ KL M N OP QR S T UV WXYZ
Quick Explanations with Links to More Detailed Info
What is Theosophy ?  Theosophy Defined (More Detail)
Three Fundamental Propositions  Key Concepts of Theosophy
Cosmogenesis  Anthropogenesis  Root Races
Ascended Masters  After Death States
The Seven Principles of Man  Karma
Reincarnation   Helena Petrovna Blavatsky
Colonel Henry Steel Olcott  William Quan Judge
The Start of the Theosophical Society
History of the Theosophical Society
Theosophical Society Presidents
History of the Theosophical Society in Wales
The Three Objectives of the Theosophical Society
Explanation of the Theosophical Society Emblem
The Theosophical Order of Service (TOS)
Glossaries of Theosophical Terms
The Theosophy Cardiff
Glastonbury Pages
The Theosophy Cardiff Guide to
The Theosophy Cardiff Guide to
The Theosophy Cardiff Guide to
The Terraced Maze of Glastonbury Tor
Glastonbury and Joseph of Arimathea
The Grave of King Arthur & Guinevere
Views of Glastonbury High Street
The Theosophy Cardiff Guide to
_____________________
Camberley, Surrey, England GU15 - 2LF
Tekels Park to be Sold to a Developer
Concerns are raised about the fate of the wildlife as
The Spiritual Retreat, Tekels Park in Camberley,
Surrey, England is to be sold to a developer
Tekels Park is a 50 acre woodland park, purchased
 for the Adyar Theosophical Society in England in 1929.
In addition to concern about the park, many are
 worried about the future of the Tekels Park Deer
as they are not a protected species.
Many feel that the sale of a sanctuary 
for wildlife to a developer can only mean 
disaster for the park's animals
Confusion as the Theoversity moves out of 
Tekels Park to Southampton, Glastonbury & 
Chorley in Lancashire while the leadership claim
that the Theosophical Society will carry on using 
Tekels Park despite its sale to a developer
Future of Tekels Park Badgers in Doubt
Tekels Park & the Loch Ness Monster
A Satirical view of the sale of Tekels Park
in Camberley, Surrey to a developer
The Toff's Guide to the Sale of Tekels Park
What the men in top hats have to
say about the sale of Tekels Park
____________________
Theosophy Cardiff Nirvana Pages
Try these if you are looking for a
local Theosophy Group or Centre
UK Listing of Theosophical Groups